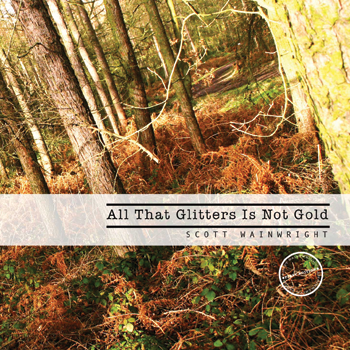 The work I often love to do most is music related artwork. One of my regular clients is Scott Wainwright, an experimental songwriter and musician from Yorkshire.
The experimental part of how Scott describes his music is often reflected in his briefs for artwork and All That Glitters Is Not Gold (pictured left) was no different. Logs, nature and woods.
Armed with a camera, we set out to capture something crazy for Scott's artwork.
Walking Boots Required
He led me down a country road and then on to a dirt track where we stopped in front of a wood. We continued to stroll down a small muddy path and the surroundings looked like an autumnal wonderland of colourful treats.
When we reached the destination Scott had already picked out I saw an opening, a vast space within this dense forest, where there were piles and piles of cut up logs.
I love a good log pile
There is nothing more exciting than seeing the design of nature come alive down a camera lens. This artwork was going to be magical. Some logs were perfectly cut but other logs had obviously been there for a long time. Perfectly sharp edges and others where moss sat and insects lived. This expanse was a playground for a creative such as Scott and we captured some beautiful moments.
Artwork complete
The end result was a collection of autumnal gold and it produced this CD artwork that to this day I am super proud of.
Above is the front of the inlay booklet (left) and one of the inside double spread pages (right). The other two pages had the thanks and artist lists.
Every Man Has His Critics – A further case study on Artwork