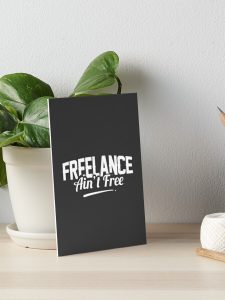 As a startup or a common place freelancer it can seem like a mountain to climb when you're starting out as a designer in this industry.
People are bombarded with design everywhere. You can't even drive or walk down your street and not see posters, banners, signs, shop logos etc everywhere. Go on the web and you'll see logos, images, photography, artwork, layouts, themes and infographics, illustration, moving image, videos and more within a few clicks. And for all of these places a designer has been involved in the process from start to finish.
There is also the battle of the freebies – those websites that say "become a designer for free with this 4 week course" and you spent £10-£30k training for years to learn, and hone your craft; to become the best designer you could be and this is just like a slap in the face.
There is a serious mountain that stands before you, you expected yourself to jump on the ladder and immediately get going, but let me tell you, it's going to take determination, will power and a serious amount of backbone.
The horrible backlash
Recently I've found myself battling a bit of frustration; whilst designing a brand outfit for a photographer and his growing catalogue of work and tools. As he shared the initial design ideas with a group he runs I was faced with extensive criticism to the designs of his logo, which included someone suggesting they take their business elsewhere and go to a popular vintage handmade online store and get a premade, predesigned more appropriate logo for dirt cheap.
Let me tell you, I had to walk away from my laptop to avoid making some harsh remark about how ridiculous and how horrible it was for people to be suggesting these types of purchases.
"Designer" is a tough title
As professionals in their work these critics would be expecting to be well paid for their work and yet had no understanding of how their comments were damaging other members of this art and design industry across the world.
Things like this kill people like me. Genuinely kill us. Yes you might not be able to afford an extravagant logo from a high end top of the spectrum design agency but don't totally bypass us, the freelancers trying to make a living whilst battling cheap and unprofessional replica works that seem to be overtaking the quality real designers can produce.
If you want something fresh, unique to you, something that has had heart and time put into it, that has been researched thoroughly and thought through, that isn't an instant replica of what someone else thought would be a good idea but that represents you as a person and your passion…then do me a favour. Quit looking at these cheapo quick fixes for your logos and watermarks, posters, flyers, websites etc and go to a freelance designer who has spent years learning their craft and knows how to provide the perfect solution to your needs.
follow on instagram @peanut_designs
Read more: Designer You Can Overcome The Wall