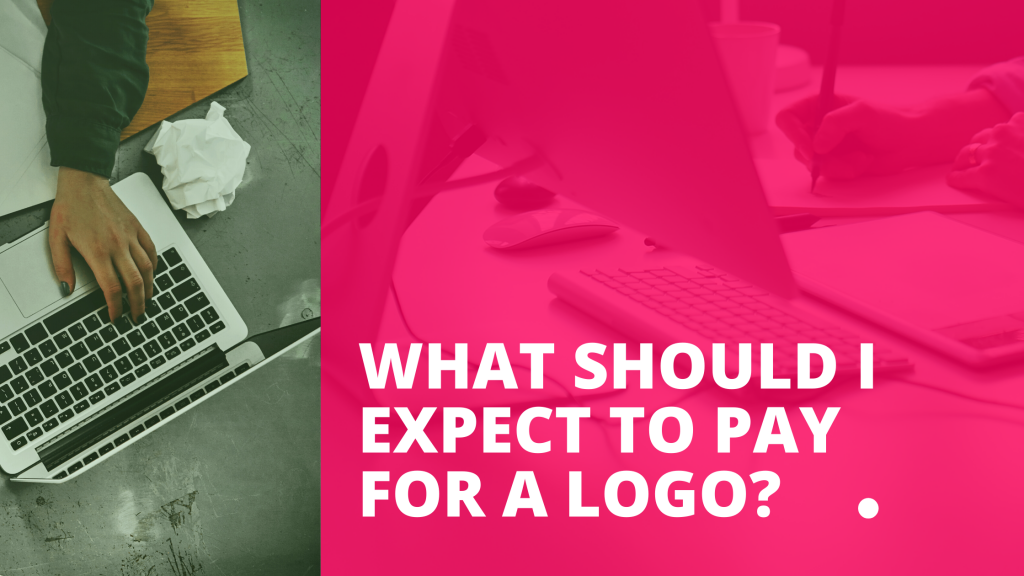 What should I expect to pay for a logo?
This is almost an impossible question to answer as each project is different, each outcome is unique and each process is completely different. However I can lay out some generalisations and look at what other professionals say about this in order to help answer this and the following questions. 
What do others say about logo prices around the world?
What quantifies experience?
When should I use Etsy or Fiverr?

What others say?
99designs says that a small business or startup should look to pay between $300 -$1300 for a logo design from a professional graphic designer.
How Much Does a Logo Design Cost? | 99designs

Jacob Cass of Just Creative says a "beginner designer should charge $100-$1000 but an experienced designer should charge $1000 – $5000."
Jacob also outlines the cost of logos from various sources:
"Budget Logo Design Price List:
DIY / Logo makers: $0 – $50
Logo templates from Etsy/Fiverr: $5 – $100
Logo Contests / Crowdsourcing: $50 – $500
Mid-Range Logo Design Costs:
Offshore Designer: $100 – $250
Beginner Freelancer: $100 – $1000
Experienced Freelancer: $1000 – $5,000
Renowned Freelancer: $5000 – $15,000
Small Design Studio: $5000 – $30,000
Mid-Sized Agency: $5000 – $50,000+"

British Logo Design did a poll and these were their results:
The average UK Start-up spends £150-£250 on their company logo.
The average Small Business spend is higher, closer to £500-£750.
The spend for Larger sized corporations is £6000-£10,000
Big brands vary hugely, but the final cost of their company logo often ends up in the millions.
Peanut Designs charges between £150 – £700 for a logo design – this gives you an idea as to my experience and my position on the market.

What quantifies experience?
A quote about experience states "It takes me 10 minutes to do something that has taken me 10 years to learn. You are paying for the years not the minutes."
If you were to need legal advice, you would want someone who has a good amount of experience (years) under their belt in order to provide you with the most up to date and most effective advice so you can solve your problem.
If you were to need a haircut you would want someone who has plenty of experience (years) in order to trust that they know how to cut your hair correctly.
If you were to take your car to a mechanic, you would be looking for someone who has experience (years) behind them in order to be satisfied that they know how to fix your car.
However, what I have noted is that when it comes to asking a professional designer, such as myself, with 15 years + experience, there's a discrepancy with how much someone is expecting to pay.
Business Influencer says a logo design process for a startup / small business project takes between 10-30 hours.

A Good Logo
A friend once said to me "just because someone makes it look easy, doesn't mean it is."
It's taken me 10+ years to learn how to do a job in 10 minutes when it use to take me hours

Smashing Magazine says "A good logo is distinctive, appropriate, practical, graphic and simple in form, and it conveys the owner's intended message. … A logo should be able to be printed at any size and, in most cases, be effective without color. A great logo essentially boils down to two things: great concept and great execution."
Vital Tips For Effective Logo Design – Smashing Magazine
Quoting British Logos again; they state
"Professional logo design between £50 and £250 will vary hugely in quality. There are a number of reasons why the prices are low – you could be restricted on the number of revisions, you could be restricted on the amount of total design time, you could be using an inexperienced designer (a risk that may, or may not pay off). However, there are reputable companies who offer promotional prices on their logo design services which are exceptional value for money."
Check out the portfolio of a personal or company to make sure you are getting the best service you can for this price and also that they can provide you with the style you want.
"From around £250 to £1000 you should be paying for the more traditional design agency service. This includes consultation, market research and a far more comprehensive service. Make sure you talk to a number of local agencies about what they can offer you. Some will charge by the hour, and others will offer various packages. It will depend entirely on your specific needs who will provide best value for you."
When should I use Etsy or Fiverr?
Knowing what your budget is from the start is a good idea so that you can reach out to the best appropriate form of designer in accordance with the above pricing and working practice you can expect from different design avenues.
Heading to Etsy or Fiverr might save you money but it won't produce originality. It will get you a logo done for sure, and it might be exactly what you want, but in my experience the logos don't have any longevity and they are often quite basic.
Etsy and Fiverr will give you a good starting point but there's no connection with the designer. I like to get to know you, get to know you personally, your likes, dislikes, favourite colours and animals, favourite hobbies and past time. All this information give me a handle on who you are so I can build a logo and brand around you so that you have a logo to be proud of.
How do I choose?
Unfortunately it's down to you to decide. Budget plays a big part in this decision; if you budget dictates your options then go with what works; don't break the bank to start your business; but remember that the logo is the face of who people see – do you want people to see the best of you? Then get a professional involved. Do you want people to remember your brand? Then get a professional involved. Do you want to be proud of your logo, wear it with pride and let the world know you have arrived? Then get a professional involved.
Find out about Peanut Designs logo pricing here
Want to know more about the difference between branding and just a logo, check out my other blog here